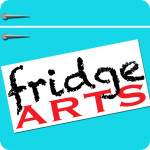 Founded in 2014 fridgeARTS is a portal for teachers and parents to foster creativity, imagination, and an appreciation of art in children.  It takes kids beyond coloring books with unique art projects, and activities. fridgeARTS encourages them to not just create art, but to explore art in museums, galleries, and public spaces.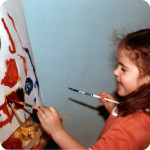 Amanda Lynn Granek – Founder & Editor
I never had a coloring book.  Instead, I used my mother's tall white plastic cart that sat in the corner of the kitchen and was filled with paper, paint, pipe-cleaners, pompoms, and plenty of other things.  Art was a constant presence in my childhood with what seemed a near endless supply of art materials, and regular trips to museums.  As a youngster I attended the Usdan Center for the Creative and Performing Arts, a day camp located on Long Island.  There I majored in ceramics, jewelry making, and photography.
In 2003, I received a BFA with concentrations in photography and weaving from the School of the Art Institute of Chicago, and in 2005, an MFA in fine art media from the Slade School of Fine Art, University College London.  My artwork, which is a photographic exploration of cross-cultural influences of one society upon another, has been exhibited internationally.  ARTnews, Newsday, BBC.co.uk, and TheGuardian.com have published my writing and photography.
I worked at ARTnews in various positions including photo assistant, archive assistant, assistant to the editor and publisher, and archivist/permissions manager.
Vicki Granek – Education Editor
As a child of the 50's and 60s, I did have coloring books-lots of them.  I found them confusing because in my child's mind I could draw better and more imaginatively with my 64-color box of Crayola crayons. The amazing part is that I was right.  Intuitively, I knew that coloring in someone else's drawing would stifle my natural creativity. Art inspiration was everywhere I looked-in nature, in man-made objects, television, movies. The connection of colors, shapes, lines and patterns fascinated me. With supportive parents, and an older brother who attended a NYC arts high school I had a constant supply of paper and an assortment of interesting art supplies. My favorite was when I was allowed to make flour and water paste for my collages.
As a teenager I attended New York City's High School of Music and Art for one year until my family moved to a suburb north of NYC. My mother had to petition the local board of education to allow me to take art classes along with my rigorous academic schedule.  My fascination with art continued through college. By then I knew wanted to share my passion for art with children. I received a B.S. in Art Education from the State University College at New Paltz and a Masters degree from Stony Brook University.
Throughout my 33-year career as an elementary art teacher in the Longwood School District, I encouraged my students to see the connections between art, creativity and learning. Art was the vehicle to teach language arts, math, science and social studies concepts and also the means for students to explore how to visually communicate their ideas and feelings.
Images – Top: ©1984 Vicki Granek; Bottom: ©1969 Daniel Granek