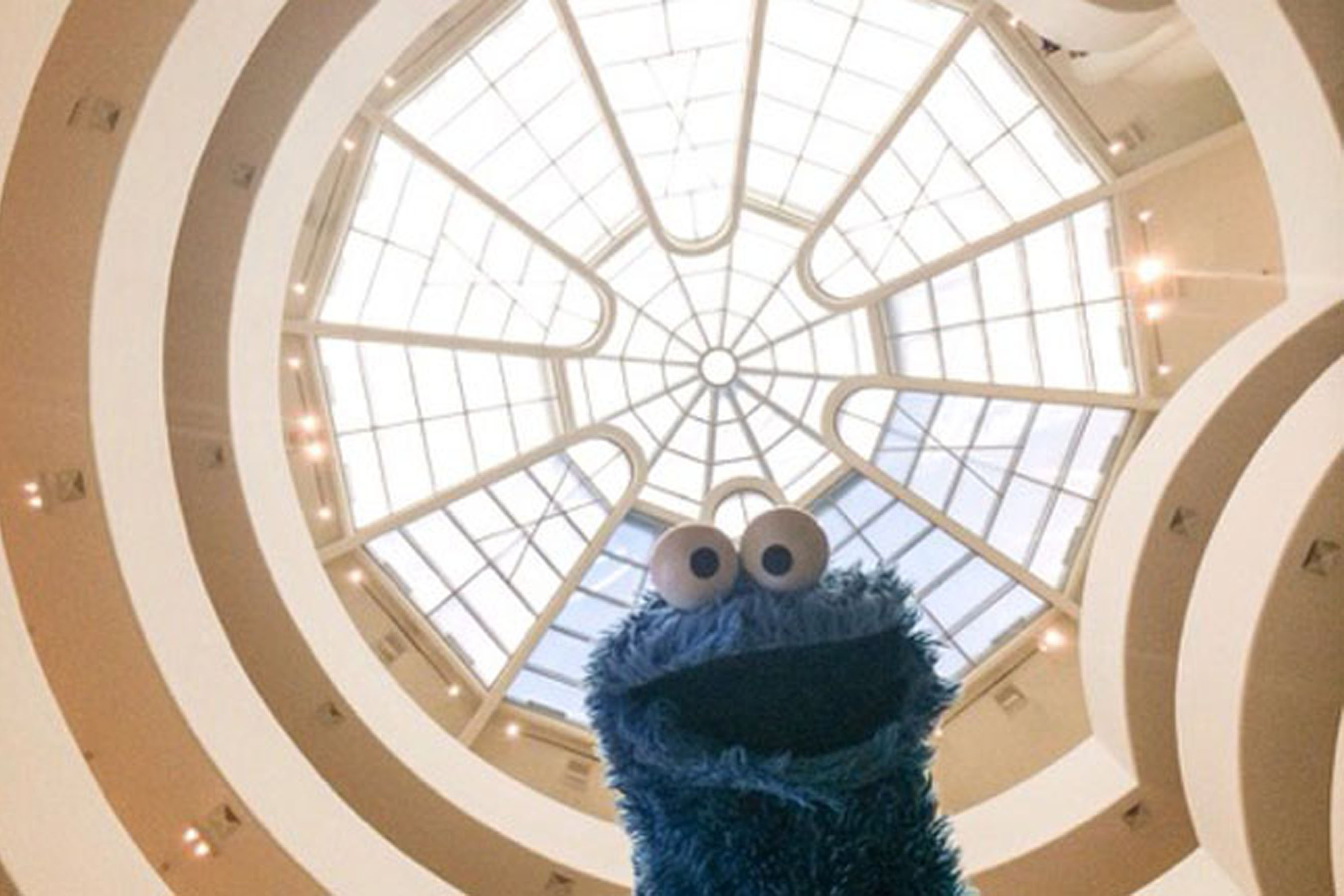 These days it isn't uncommon to find celebrities like Beyoncé and Jay Z posing with Leonardo da Vinci's Mona Lisa or Katy Perry with Grant Wood's American Gothic. However, on February 13 in the lead up to the release of his first TV special, another celebrity hungry for culture took a whirlwind museum tour around New York City. He took selfies with iconic artworks and was even gifted with a lifetime membership to MoMA. The Cookie Thief starring Cookie Monster with guest star Rachel Dratch, of Saturday Night Live fame, premiered on February 16 on PBS KIDS. His #CookieArtTour included stops at the Guggenheim Museum, Metropolitan Museum of Art, and Museum of Modern Art.
This was not Cookie Monster's first trip to a museum. In 1983 he and his Sesame Street friends accidentally got locked in the Metropolitan Museum of Art after hours when Big Bird wandered off at closing time. That special titled, Don't Eat the Pictures, isn't available for purchase from Sesame Workshop but copies can be found online from sites like Amazon.com and Musefilm.org.
Cookie Monster started the #CookieArtTour at the Frank Lloyd Wright designed Guggenheim Museum in New York, which he thought looked like a giant cookie jar. Showing some self-restraint while looking at a Cézanne still life he tweeted, "Me see yummy fruits and veggies in dis Cézanne!!! Me try so hard not to eat. Me no want to make @Guggenheim angry."
Later in the day he stopped by the Metropolitan Museum of Art. There Cookie Monster and a sphinx of Hatshepsut had a staring contest and he contemplated if it would be possible to make cookies as big as Emanuel Leutze's 149 inch by 255 inch painting, Washington Crossing the Delaware.
The final stop in the #CookieArtTour was the Museum of Modern Art. After seeing paintings by Vincent Van Gogh and Henri Rousseau he had a brief snack, a cookie, of course. This one was shaped like an artist's palate and made especially for Cookie Monster by The Modern's executive pastry chef, Jiho Kim.
In his new special The Cookie Thief, Cookie Monster, Elmo, and Chris visit the new museum that has opened on Sesame Street, the Museum of Modern Cookie. All of the artworks are cookie themed by famous cookie artists like Leonardo da Crunchy, Pablo Picookie, Vincent Van Dough, and Edvard Munch.
The visit goes well until some of the artwork goes missing. When accused of stealing the art by a museum guard, played by Rachel Dratch, Cookie Monster says, "Me not steal painting, might take a nibble." Elmo, Chris, and Cookie Monster are thrown out of the Museum of Modern Cookie.
Did he steal the art? Was he framed? Will they solve the mystery and find the missing art? You'll have to watch The Cookie Thief to find out.
The works in the Museum of Modern Cookie were reimagined from famous works of art from a broad range of artists including Johannes Vermeer, Edgar Degas, Roy Lichtenstein, James Abbott McNeill Whistler, Auguste Rodin, Alexander Calder, and many others. In Sesame Workshop fashion there are a few new musical numbers with catchy tunes that will stick in your head. Along with incorporating information about art they included lessons on counting, self-control, and the alphabet. "We are excited to help kids learn self-regulation strategies through this wonderful Cookie Monster story," said Carol-Lynn Parente, Executive Producer of Sesame Street. "These are important skills that all kids need when starting preschool and throughout their life."
To coincide with the release short videos from The Cookie Thief are viewable online at pbskids.org/video, and a new game, The Cookie Case, starring Elmo is on the website pbskids.org/sesame. Kids can help Elmo solve a series of art crimes to catch such criminals as Andy Warthog and Eugène Delacrook. Parents can also download Cookie Monster's Challenge, an app for tablets, which costs $2.99.
Most museums have great programming for children and the Guggenheim Museum, Metropolitan Museum of Art, and the Museum of Modern Art are no exception. After watching The Cookie Thief, maybe you can take the kids to see the original artwork. The Museum of Modern Art, has the MoMA Art Lab located on the first floor of The Lewis B. and Dorothy Cullman Education and Research Building. Just like Cookie Monster did on his tour, visitors can make their own art.
Images: Cookie art and Cookie Monster Courtesy Sesame Workshop; The Starry Night Courtesy Museum of Modern Art