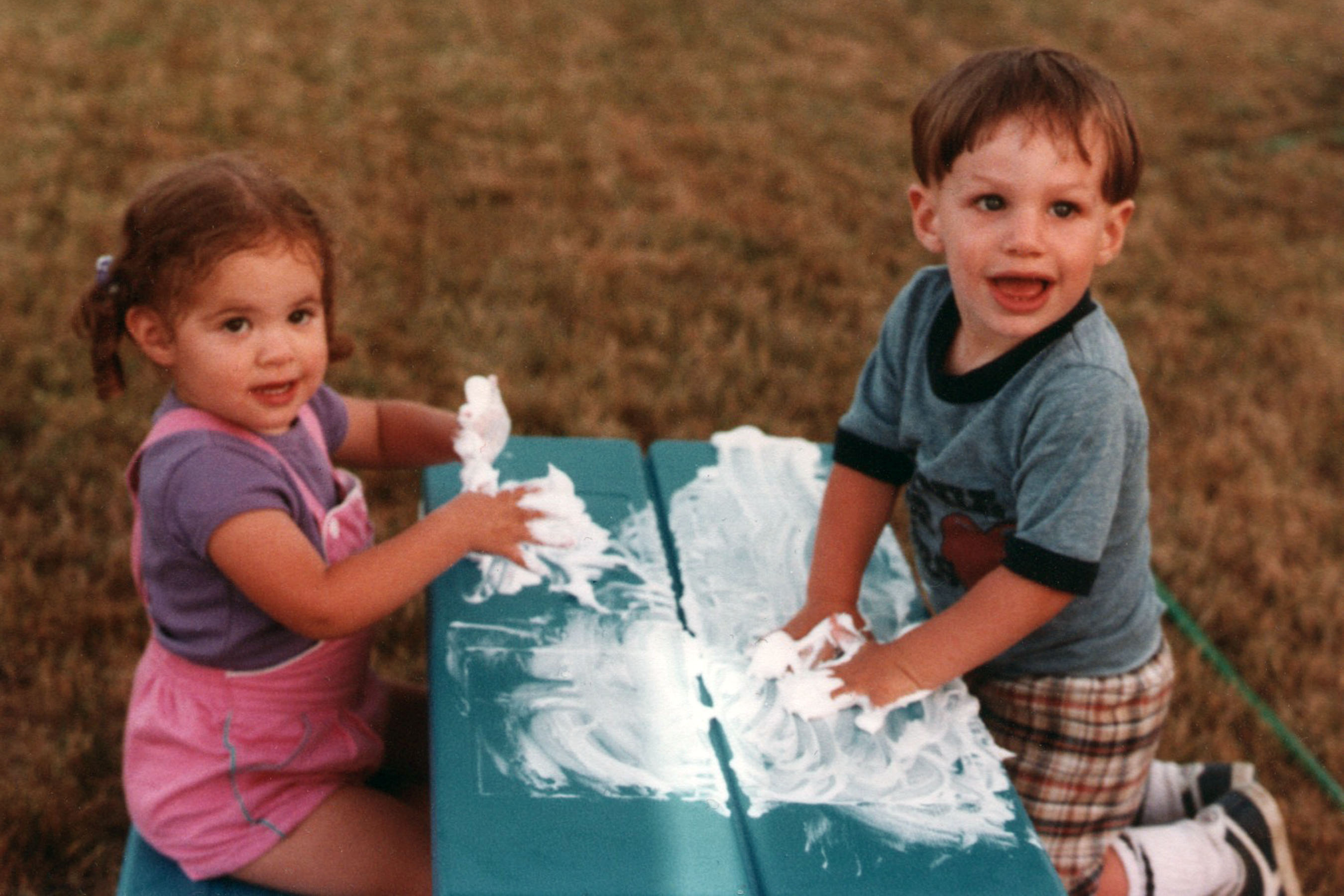 I love finger painting! It's a fun, colorful, tactile way to create. As an educator and a parent, nothing can compare to witnessing the joy and surprise on children's faces as they use their senses to create. Finger paint has a pleasant aroma, an interesting feel, the ability to mix an infinite number of colors, and great squishy sounds. It even tastes good if the paint is pudding.  Shaving cream is another alternative to paint. When my daughter was little, after eating spaghetti, I'd place some shaving cream in the tray of her highchair and let her finger paint the mess away.
Prepare Your Workspace
– Cover the work area with a dollar store plastic tablecloth. It's big and waterproof.
– Use a finger paint tray to contain the mess – a jelly roll pan works great. Line it with the paper.
– For the palette use a muffin pan lined with cupcake liners or glue 6 cupcake liners onto a piece of cardboard.   Three cups for the three primary colors and the other three cups are for mixing secondary colors (orange, green, violet)
Gather Up Your Materials
– Finger paints in primary colors (red, yellow, blue or cyan, magenta, yellow) The latter colors blend better but you will need to make your own finger paints to get the cyan and magenta.
– Paper (finger paint paper or freezer paper)
– Damp paper towels to clean fingers – this is a must – especially for the sensory challenged child or adult.
Tools
– Fingers (required)
– Plastic fork, knife, comb (optional)
– A smock (Don't forget this! An over-sized t-shirt is best – it covers everything and the sleeves are the right length.)
THE SCIENCE PART OF ART
Place a small dollop of paint in the muffin tin. Less is best and it's easy to refill if needed. Too much and you make a huge mess.
Mix some red and yellow and see what happens.

Wipe fingers on the paper towel.

Mix some yellow and blue and see what happens.

Wipe fingers on the paper towel.

Mix some blue and red and see what happens.

Wipe fingers on the paper towel.
LET THE CREATIVITY BEGIN!
There are no rules – except paint goes on the paper in the tray. One finger at a time – that works. Paint on all fingers – that works, too. Mixing paint in the cupcake pan is perfectly acceptable. Blending colors on the paper – keep that creativity going!
Explore lines, shapes, color, texture (the comb, fork and knife are great tools to achieve this), pattern and space. Experiment with fingerprints – notice the whorls of skin that make each of us unique. Add details with fingernails. Color in entire areas with the edge of your hand or palm. Add a some sand or glitter to change the texture.
Explore, experiment, create and have fun. It's all about making art.
We'd love to see your kid's creations.  Please send photos of their paintings to fridgeARTS@gmail.com and we'll post our favorites in the Gallery.
Images –  Top: © Vicki Granek; Bottom: Courtesy the artist's mother