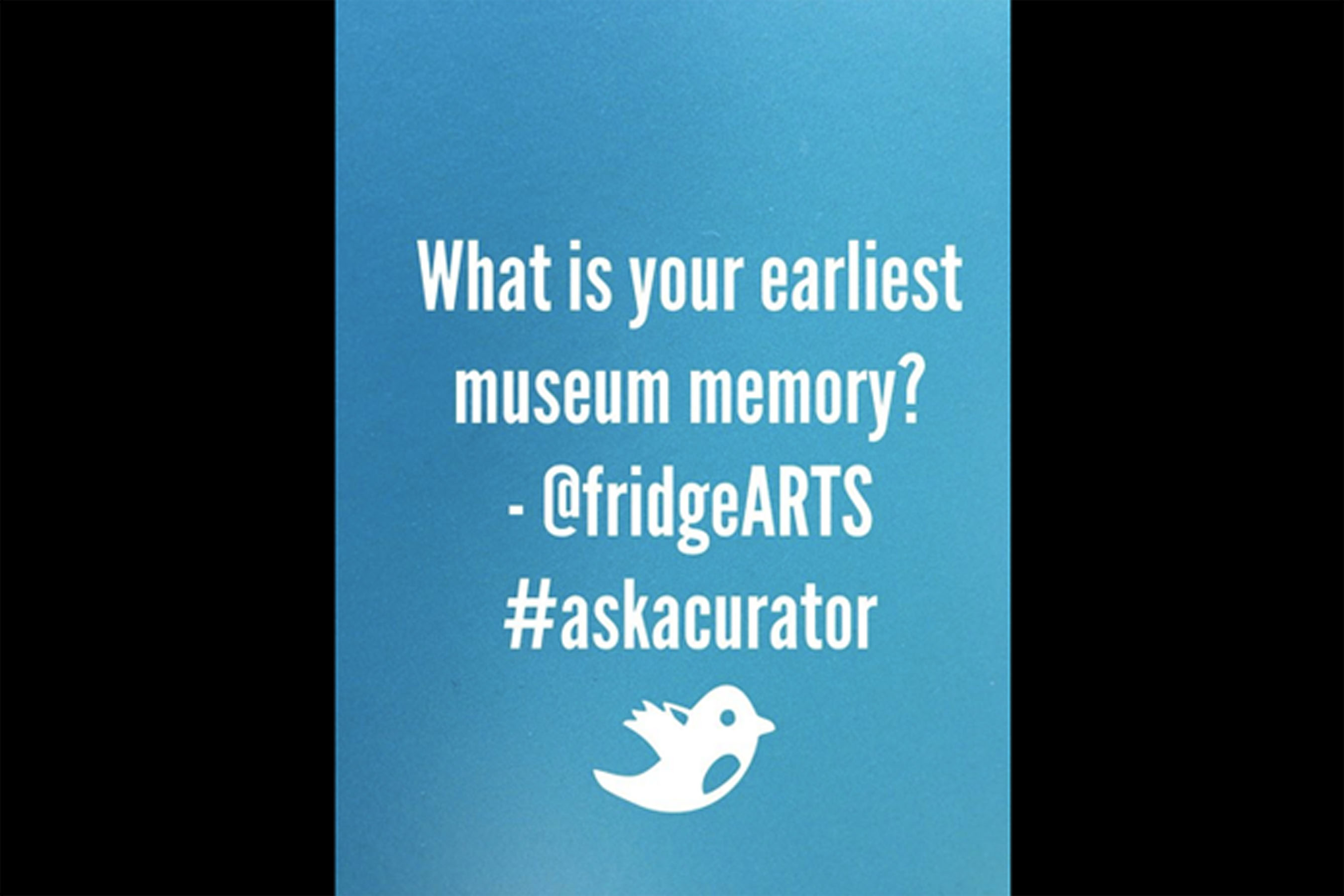 Imagine if you could walk up the steps to a museum, through the galleries, past the exhibits and display cases, and into the offices and store rooms and ask the curators anything about the collection, their career, or whatever tickled your fancy. Yesterday the public had that collective opportunity to virtually meet and question hundreds of curators around the world via Twitter.
#AskACurator was started in 2010 by Jim Richardson, founder of Sumo Design in England, and since then it has turned into an annual event. The past few years the event has been organized by Mar Dixon, who founded a number of events for museum professionals and teens including MuseoMixUK, MuseumCamp, Teens in Museums, and CultureThemes.
This year #AskACurator hit record levels with 721 museums from 43 countries. England and the United States had the most institutions participating with a combined total of 339. The day began in New Zealand and Australia and worked its way around the world faster than Magellan could have ever imagined. Countries as far flung as the Philippines, Sierra Leone, Cambodia, Colombia, and Qatar participated in the event. Curators took over museum's Twitter accounts or responded from their own in shifts throughout the event. Anyone with a Twitter account could query the curators by using the #AskACurator hashtag for general questions to any curator and by including the museum's Twitter handle for more direct questions. So many people took part that the #AskACurator hashtag was trending in both the United States and England and between 4-5PM GMT (11-12 EDT) there were over 36,500 tweets and the event still had quite a few hours left to go.  Next year #AskACurator day will take place on September 16.

fridgeARTS, took part for the first time this year and we asked a lot of questions. Most museums have established museum education departments and programming for kids, but we wanted to know about when the curators were kids themselves. Out of all the questions we tweeted the one that sparked the most response was:
What is your earliest museum memory?
Thank you to The Children's Museum of Indianapolis for making and tweeting the above graphic of our question.
Below are a few of our favorite replies.
Johanna Mizgala – @lucediversa
Climbed into display when I was 5. Instead of anger, curator explained objects & their care. Was hooked 4 life.
Lancashire Museums – @LMuseums
Visiting Gray Art Gallery, Hartlepool, aged 6 to see the dinosaur my class had made from cardboard and spray paint
Hammer Museum – @hammer_museum
A childhood visit to @MOCAlosangeles from rural east San Diego county and seeing a Doug Wheeler installation.
I'm sure I went to a museum before I was 18 but my fondest memory is going to the National Gallery of Art in DC…and learning/seeing the difference between a Monet and a Manet…it sounds silly but it's a way of learning through the eyes…
Baltimore Museum of Art – @artbma
Being from Bmore it was great to see the posters from art class Come alive @artbma @walters_museum @TheAVAM!
Museum Indian Arts – @NMM_IndianArts
Seeing the dinosaurs and one of my grandma's pots at the Denver Museum of Natural History.
The Children's Museum of Indianapolis – @TCMIndy
Jennifer, archivist: Here #atTCM I remember the cave & the whispering activity in Science Spectrum!
During my initial tour of TCM, I wanted to escape & go play in Passport to the World! –@melawesome, Exhib. Dev.
Hamaker88 – @Hamaker88
I remember coming to @TCMIndy at age 6 and being terrified of the T-Rex sculpture in the old dino gallery. Now I work here! 🙂
Van Gogh Museum – @vangoghmuseum
As a child I really enjoyed the science museum NEMO. When I was 16 years old I visited the Van Gogh Museum for the first time.
Craft Alliance – @CraftAlliance
Growing up in NYC, the @metmuseum was my first memory, and I fell in love with @MuseumModernArt in high school.
---
We also asked:
When you were a kid, who was your favorite artist/work of art?
Christopher J Garcia – @johnnyeponymous
One of the pieces that made me love art – the Universal Child by Benny Bufano in Santa Clara, CA!
Hammer Museum – @hammer_museum
I still love that Wheeler, and seeing that installation was the beginning of my love for Light and Space.
Although he's not a curator, fridgeARTS questioned #AskACurator organizer Mar Dixon about what his earliest museum memories were:
Going into the beating heart at Philadelphia Franklin Institute and playing and suddenly going 'WAIT A MINUTE – I'M LEARNING!' And thinking how sly that was of them.  I think I was 5.
Running on the steps of Philadelphia Art Museum like Rocky because I could. I was 7.
Do you have a childhood museum memory you would like to share?  Please do in the comments section below.